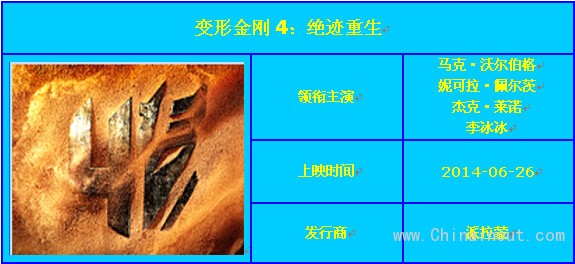 不可否認,該片導演
邁克爾

·

貝
在制作電影時爆炸效果總能搶了畫面的風頭,這從他過去所導演的電影《勇闖奪命島》、《珍珠港》以及《雷霆戰警》都能看出。這次接手的變形金剛系列電影,利用視覺效果和真人動態結合,加上明亮大膽的色彩搭配以及大量的爆炸場景和性感場面使他在這方面的才華得以充分體現。

這是過去七年中五部電影的成功典范,導演僅僅制作了一張圖片,而且還不是變形金剛的。但是如果電影發行商出現任何收益遞減的信號,那邁克爾就得把導演的位置讓給別人,自己釣魚去了。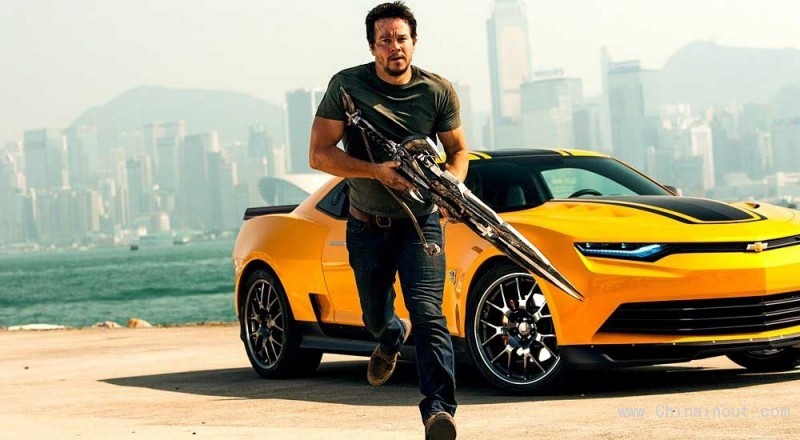 距離上次變3《月黑之時》已過去5年,變形金剛們失去了美國政府的信任,并被指責正是由于它們的存在才造成了霸天虎在芝加哥進行毀滅性破壞事件。剩下的汽車人,在擎天柱(再次由皮特·庫倫配音)率領下躲避中情局特工哈羅德率領的墓風小隊的追捕,他操縱著墓風小隊,專門捕殺所有無論好壞的汽車人。
擎天柱在德州被破落的機器人發明家凱德·伊格(馬克·沃爾伯格飾演)和他的朋友發現買回,此時擎天柱偽裝成一輛破舊卡車頭。很快他的女兒(妮可拉·佩爾茨)及其男友也牽涉其中。商業大亨約書華·喬伊斯的科技公司KSI發掘出變形金剛的基因奧秘的秘密,并造出了他們自己的變形金剛,但是他們不知不覺中造出了新的霸天虎——驚破天。
觀眾對于變形金剛系列電影十分的喜愛,變心金剛系列迄今已經收獲了27億美元的全球票房,這還沒算上相關產品的銷售所得。最近幾周,制片方已經開始計劃要進行下一部的拍攝計劃,時間為2016年,但邁克爾還沒有正式簽字。
第四部緊隨上一部電影《月黑之時》,但這次還加入了恐龍因素,出現了恐龍變形金剛。這原本并不在劇本中,而是導演自己加入的元素。
不得不承認,《絕跡重生》真的是一部十分冗長的電影。電影時長165分鐘,要想整場都用運動風格紙片來吸引觀眾眼球是根本不可能的事。而用3D模式看此片時,即使擁有最好的特效,最壯觀的爆炸場景,最短的迷你裙,如此長度也真的是接近于煎熬。剪輯掉至少45分鐘可以使劇情更加緊湊些,動作更強勁有力,這樣觀眾就不至于太過視覺疲勞。而且這樣對制片方也好,可以節省4到5千萬美金的成本。
來源:中國進出口網
www.swaina.com
/ 亢豐磊編譯
Transformers Extinction (2014)

Whilst critics might rip them apart, there's no denying the spectacle of a Michael Bay blow 'em up picture. From The Rock and Armageddon, to Pearl Harbor and Bad Boys. In the Transformers franchise, he's found an entirely appropriate outlet for his style of filmmaking; a kinetic blend of visual effects and live action, with bright bold colors, lots of explosions and sex appeal.

Such was the success of the model that out of five films in the last seven years, the director has only made one picture that wasn't a Transformers picture. But if the diminishing returns of the franchise are any indication, it's well past time that Bay gave the keys to the playpen for someone else to play with.

Five years on from the events of Dark of the Moon, the Transformers have fallen out of favor with the United States Government, blamed partially for the fallout from the Decepticon devastation that befell Chicago. The remaining Autobots, led by Optimus Prime (voiced once more by Peter Cullen), have been forced into hiding by CIA agent Harold Attinger (Kelsey Grammer), the head of operation Cemetery Wind, which is responsible for hunting down good and bad robots.

When Prime is discovered by backyard inventor Cade Yeager (Mark Wahlberg) in the guise of a beaten down truck, his daughter Tessa (Nicola Peltz) and her boyfriend Shane (Jack Reynor) became quickly entangled in the battle. Wealthy research firm KSI has discovered the secret to the robots transformation capabilities and replicate their own Transformers, but in doing so, they've unwittingly created an army for the evil Decepticon Galvatron (voiced by Frank Welker).

The appetite for Transformers pictures has been voracious, with each of three live action pictures grossing more than the last, making for a combined total of $2.7 billion at the worldwide box office (not counting the funds pulled in from associated merchandising), so you can well sympathize with Paramount and Habro's reluctance to let the franchise sleep. In recent weeks, they've even dated the next entry for 2016, although Bay has not yet signed on.

The fourth outing, which follows from the events of Transformers: Dark of the Moon, wipes the slate clean, with an entirely new cast and even unleashes fan-favourite Dinobots into the mix. Despite this, the stale formula isn't in the script - it's in Bay himself.

Age of Extinction is one long ass film. At 165 minutes, there is just no way that the kinetic style of filmmaking can hope to sustain audience's attention for that long. Viewing the film in 3D became near painful. The best visual effects, the biggest explosions and the shortest mini-skirts can't overcome this. Cutting at least 45 minutes from the films run time would have resulted in a much tighter experience, with action sequences that pack a punch rather than wear out their welcome and would significantly reduce viewer fatigue. And the studio would have been happy too - it probably would have shaved $40-$50 million off the film's bottom line.
By: Ben Gourlay